TU today
The folklore ensemble "Tamburica Uzlop" (TU) was founded in 1962 and looks back on successful 50 years, years with many musical and social highlights and experiences – from buying the first instruments to international tours and performances in TV-shows. The Tamburica Uzlop is and was always keen to preserve and foster the Croatian tradition, the folk songs, the folk dances and the Croatian language.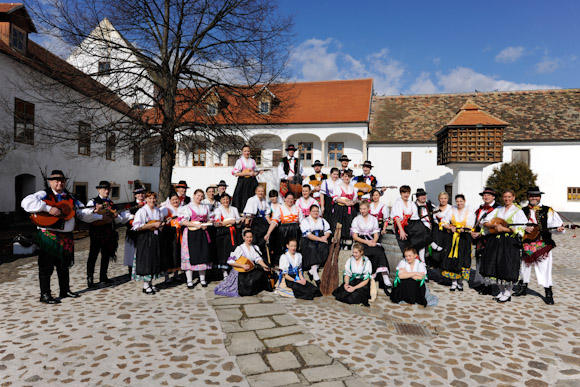 Hometown of TU is Oslip, a bilingual town in Burgenland, the most eastern province of Austria. Aside German the majority of the inhabitants speaks Burgenland-Croatian (an old Croatian language, spoken by the Croatian immigrants in Oslip since the year 1527).
The name of our society is comprised of the terms "Tamburica" and "Uzlop". Uzlop is the Croatian name for Oslip. This name for the society was chosen, because it is the oldest, still common name of our hometown Oslip.
Members
Agnes Jagschitz
Agnes Lippl
Alexandra Presich
Alexander Robitza
Anna Robitza
Anna Schuller
Björn Rothenburger
Catharina Ehrlich
Christina Presich
Christina Golubović
Christiana Dannenmaier
Claudia Schindler
Corinna Schuster
Diana Jurkovits
Didi Jurkovits
Felizitas Pieber
Franz Jagschitz
Gabi Weinreich
Gerald Gerdenich
Isabella Höld
Jivac Krupich
Josef Schuller
Julia Jelleschitz
Julia Hamedinger
Jürgen Haselbauer
Karina Schrödl
Katharina Krupich
Klaus Schindler
Konrad Robitza Sen.
Konrad Robitza
Krunoslav Oriovich
Lara Dannenmaier
Ljuba Szinovatz
Markus Prenner
Martha Krupich
Mirko Szinovatz
Nicole Zahradnik
Petra Prenner
René Nagy
Robert Schindler
Roland Petö
Saraja Hauptmann
Sarah Jelleschitz
Simone Schumich
Sofie Schuster
Theo Schneider
Toni Robitza
Ulli Stainer
Ulli Weinreich
Viki Stipsits
Wolfgang Hauptmann
Angela Fabric
Christian Schumich
David Rainprecht
Gabriele Kasper
Helga Fuchs
Helga Schneider
Johanna Pint
Lisa Bauer
Noah Nagy
Manfred Fuchs
Marianne Gerdenich
Sabine Jelleschitz
Sabine Lippl
Slavica Maksimovic
Stevan Maksimovic