The costumes – history
Costumes are always a result of their time, the local circumstances and the people, who wear them. Therefore costumes are – like language and way of life – a lively and always changing component of every ethnic group.
Since 500 years the ethnic group of the Burgenland-Croats lived as an "island", isolated from the old homeland Coratia, in the "border region" between the Alpine and Hungarian cultural area. During that long time both the German and many more the Hungarian culture took influence on the costume. That may be the reason, why many costumes of the Burgenland-Croats resemble each other in appearance and a kind of "adjustment" is unmistakable.
The costumes – today
Despite all those facts, here in Oslip our costumes have preserved some distinctive singularities and details.
Men
On the men´s costumes you may see the embroidery on the back of the vest (waistcoat or little jacket – prsluk ili krožet ili jačerma ili lajbek). Another singularity of our men´s costumes are the two cloths, worn round the hips and over the shoulders under the vest. Furthermore a felt hat with brim and a colorful ribbon in summer respectively a fur-cap ("astrika") in winter is part of that costume.
A special feature is a crane´s feather (ždralovo pero). Young and unmarried men wore it proudly on their hats. In ancient days this feather also designated the owner as fit for military service and was considered as a status symbol – to lose the feather was an absolute disgrace!
White trousers (grebeše) in summer and black breeches ("pričas" hlače) in winter complete the men´s costumes.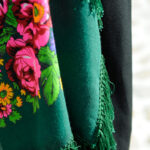 Women
Conspicuous at the women´s costumes are most of all the wonderful embroideries on the back of the vest (bodice or short "axle-dress" – mali oplećak ili kas ili tesnek). Those embroideries – ornamental, with silver or sometimes golden sewing threats – are mostly embellished with small plates and buttons. Significant are also small mirror-plates, placed in the embroideries and patterns.
In winter women wear a warm wrap (bintar) over the summer costume. Every woman has her "own, individual colour" of the skirts, tops and ribbons of her costume – a tradition, which is significant for Oslip and which distinguishes us from other tramburica groups and folk dance groups:
We are very proud, that we were able to recreate our costumes on the basis of old pictures and parts of old costumes. The costume, as we wear it today, was worn at festive events around the turn of the 19th to the 20th century.